When you're choosing bedroom desks for teenage rooms, the first big consideration to keep is mind is how much space you have. If you're moving away to a dorm, or sharing a room with siblings, or just don't have a huge area – then you may want to choose a desk that's not quite as long or as wide. Take a look at this collection of teen bedroom desk ideas and borrow a little bit of inspiration.
Teen Bedroom Desk Ideas
41. Tiny Bedroom Desk in the Corner
This tiny little desk has a stool that can slide under it, taking up minimal space in the corner. It barely has enough room for a laptop, but when you have limited space in your dorm or bedroom, then that's the type of sacrifice you might need to make.
You could easily pair a small desk like this with a stool on wheels that has a back, so that you can get a little more support if you're going to be sitting there for long periods at a time. However, sitting on a stool like the one pictures above is just fine, too, as long as you remember to sit up straight with good posture.
40. Round White Desk
A round white table makes a great desk if you have the space, especially since you can use it to multi-task and for various other purposes when all you need is a bit of space for your laptop. It gives you a lot of room to spread out books and studying materials, if you don't mind using the space behind your screen instead of having more space next to you.
It's not necessarily the greatest option for a small teen bedroom, but if you have a combined living area like a dorm, you can use this as your coffee table and a place to sit on the floor and work from.
39. Minimalist White Desk
Here's a simple white desk with black accents. This person could have gone with the grey version of their Logitech MX mouse and a white mouse pad, but the contrast looks pretty good too – plus if they were going for a full white-out effect, they would need to paint their monitor and find a different chair. The white desk, keyboard, and silver laptop does a good job contrasting the black from their accessories and peripherals, in any case.
A little succulent plant on the side can always tie things together without taking up much space and without needing much light. Perfect!
38. Narrow Desk With a Bench Attached
This narrow desk won't give you a lot of depth, but it's great for studying, reading, writing, and even using a laptop. It's not ideal for a full monitor, keyboard, and mouse combination but the bench next to it also gives you a place to sit and relax while you read.
This narrow desk has a nice drawer to keep some books, pens, pencils, and other smaller items. You could expect to see a desk like this in a hotel room or another smaller space, which makes it a good fit for a teenager's bedroom desk.
37. Desk for Teenager Boy
This desk has drawers on one side, and a hutch over top for extra storage and to display things. A desk with drawers and hutch adds a lot of space to keep things. In this case, it holds a ukulele and some camera lenses, but you could keep books there, some small plants, or other accessories for your hobby that you want easy access to.
There isn't a lot of space for a large monitor below the hutch, so that's something to take into consideration. You could do a one-screen setup here and have it off to the side without being under the hutch, or just have the screen a bit closer to you and not under the desk hutch at all.
There's a simple Ikea desk to the side and an extra shelf above the desk. This is a pretty simple setup with furniture that you could easily track down in a family member's garage, a thrift store, or a garage sale.
36. Desk for Teenager With a Riser
This desk for teenager rooms has a riser on it which acts as a stand for the monitor and other accessories, and also allows you put stuff below it for extra storage. It's handy to slide your keyboard below the riser when you need more workspace on your desk, or to store papers and what-not.
Adding a wide riser like this gives you a lot of extra space in a limited-size teenage bedroom, so it's a really good accessory to keep in mind. There are a lot of different styles, as you'll see throughout the rest of this list, so keep an eye out for that. A lot of them are more narrow, but a full (or nearly full) width monitor riser is highly recommended because it essentially doubles your surface area on the desk.
35. Sawhorse Leg Desk for Teen Rooms
The matches sawhorse legs support this silver desk. The sawhorse legs give you a shelf for storing things. You could keep a computer tower on there, your router, some books, or use it as a place to put down your backpack when you get home so you always know where your stuff is.
This is a really clean and minimal looking workspace with neutral colors that can help you stay focused on your work without getting distracted by the things around you and nearby.
34. Cute Desk for Teens
This cute desk for teens leaves a lot of space to customize things and really make it your own, plus it has a ton of storage that's totally hidden behind one flat panel for a very clean look. You could attack photos, art, or whatever you want to the front of that panel, making this a very cute desk!
The storage space above this cute desk for teens also offers a clean look with a lot of function, especially in regards to giving you a place to put clutter to keep everything looking clean and nice.
33. Booth Desk
This booth desk is similar to sliding into a booth at a restaurant. This is something you could put together for yourself at home relatively easily if you're handy with woodworking at all. You can use a small cushion so that you're not sitting directly on the wood, but a little extra comfort, but this isn't the best option if comfort is a priority.
This type of modular work area can be good if you like to partition your space off, or have multiple areas/desks for students or roommates to work at.
32. Green Desk for Teens
This green desk for teens has two drawers for storage and thin legs. It's basic shape, it takes up minimal space, and it even has some options for cord-management at the back – very nice!
It's about as simple as a desk can be without being a table, for all intents and purposes. The simple stool with a back and wheels is also about as simple as a chair can get, but it does the job and slides under the desk to take up minimal space.
31. Four-Leg Desk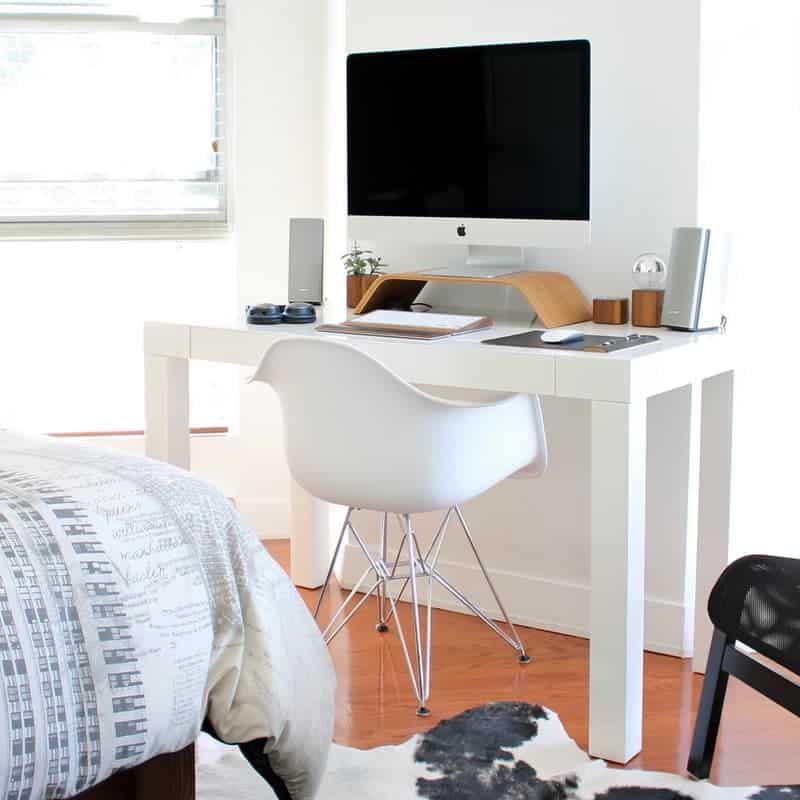 Here's a standard four-leg desk with thick, square, wooden legs and a thick top to the desk. It's contrasted by the thin legs on the chair. The monitor riser gives you some extra space, and the relatively small speakers won't take up too much of that precious desktop area.
30. Makeup Desk for Teen Bedrooms
This desk doesn't quite fit the chair underneath it, but it looks good. It's ideal for projects like arts and crafts, or for doing your makeup, especially with that big bedroom mirror behind it. You could obviously toss a laptop up there too when you have some homework or reading to do, making this a versatile option.
The drawers look like they're from Ikea, or at least incredibly similar to something you'll find there, and they give lots of space for art supplies, stationary, makeup and cosmetics, and anything else that might otherwise take up space on the top of the desk – which makes this a great choice for keeping your teenage bedroom organized and clean looking (even if the drawers are chaotic on the inside!)
29. Study Desk for Teens
Here's a study desk for teens who like something fairly minimalist. There's a lot of room under the desk for filing cabinets, a trash bin, and whatever else. It's a no-frills type of study desk, with lots of surface space to spread out your books and papers and projects.
28. Table Desk
This is the most basic style of desk, it's basically just a table. This one has a chair underneath it, but not an office chair. If you're spending a lot of time at the desk, you'll probably want something that's more of a desk and more of an office chair, but if this is a place you don't spend much time, this more casual style can stop your bedroom from feeling like too much of an office.
27. Corner Desk for Teens
This corner desk for teens has plenty of room for a laptop, a monitor, a tablet, a lamp, some videogames, and more. The corner shelves match closely enough too, and this is all-around a perfect example of using a corner space. The window right there can let in a lot of light when they're opened up, or can block the glare.
This is a nice work station, and if you look closely, there's even some shelving and storage below the desk on the side.
A slick setup like this is very attainable, too! Here's how to make money as a teenager so that you can save up and create your own ideal bedroom space.
26. Wall Mounted Desk for Teenagers
This desk is mounted to the wall on the right side, and has a shelving unit attached to the left side. There's some LED lightning below it to really make the area glow, and overall it's a lovely workspace for homework, studying, or just relaxing and playing on your laptop.
25. Small Laptop Desk on Wheels
This laptop desk has wheels so you can easily move it around the room, and since it's the perfect size for a laptop, you don't really have to worry about wrangling too many cords or cables. Being able to move around your furniture is a huge benefit for a small space.
There's no storage here, but in the teen bedroom desk idea above, they have a pretty standard square-shelved bookcase that resembled the famous Kallax.
24. Tiny Desk
This tiny little desk barely has enough room for a laptop and a drink, but it'll get the job done while taking up as little space as possible, making it great for a small room or dorm. You can have it off in the corner of a room, or near your bed, or whatever suits your bedroom style the best.
23. Desk for Studying
How's this for a cozy looking study space in a bedroom? The lamp is a nice touch, so you can have some ambient lighting on the desk, and you could even use it as a nightlight.
The shelf above offers a great opportunity for storage or displaying things. This desk has a thin top to it, and the leather chair gives it a classy, grown-up look.
22. Vintage Wooden Desk for Small Rooms
Here's a gorgeous vintage wood desk that shows its signs of age and wear proudly. Sometimes, you'll find old furniture like this that's been re-painted or stained and that can ruin the patina (But if you plan on keeping it, and you like the way a paint or stain job looks better, go for it and make it your own!)
The most important thing when you're using an older desk is making sure that the surface is flat and smooth and that it won't give you any splinters if you run your hands across it. If it's a bit rough, you could always grab some sandpaper and get to work to smooth things out.
21. Desk for Studying
You can't see the desk too well in this photo, but it's a good example of how you don't necessarily need a picturesque workplace that's perfect clean and organized and spotless. You just need a surface to work on, and a place to put the rest of your stuff.
Remember, the goal of a teen desk in a bedroom is to give a place to work on things, not to take perfect photos for social media, right?
20. Matching Teen Desk and Chair Set
This desk has a certain rustic look to it thanks to its wood construction and the surrounding accessories including a wicked-weave around the garbage can and the tree stump with a plant next to it.
The desk and the chair match because they are constructed in a similar fashion with square legs that connect at the bottom.
19. Best Desk for Teenager
Here's a great project desk. It's simple, bare wood, and has a cross-bean for added stability and to rest your feet on. The top is coated, making it an ideal surface for working, painting, studying, or whatever else you may need to do at a desk. The simple stool has a pillow for extra comfort, which matches the fluffy rug under the chair next to the desk. This while scene shoes that it doesn't have to be posh to look great.
18. Tall Standing Desk for Teens
Here's what a standing desk for teens looks like when it's fully extended for standing-mode. This particular desk has a bit of cable management going on, but they could definitely tidy things up a bit more if they wanted to. Then again, it's rare that you would actually see below the desk, even when it's fully extended, it's just the angle of this photo that lets you see below.
As a sidenote, the headphone holder is a nice touch, it keeps your headphones safer from spills or getting crushed and keeps them out of the way.
17. Desk With Plants
This desk has drawers and nice shelves on both sides which are packed with all sorts of things from decorations, cameras, headphones, plants, and paperwork. This is an example of how you can have a relatively full set of shelves that are busy without looking cluttered.
The boards behind the desk help, too. You could use chalkboards or dry erase boards or whatever best suits the style you're going for. You could even use chalkboards, if you don't mind a little dust here and there.
16. Sawhorse Desk for Teen Rooms
Here's the first of two desks in a row that incorporate a nearbyh window for extra storage. This will only work if you have deep windowsills. In the photo above, you can see the window being used as a bookshelf and for displaying some toys. In the idea below, it gets a little more creative than that…
15. Ultra Narrow Desk and Windowsill
Here's a very narrow desk, it can't be much more than a foot deep. It has some storage on the side for papers and books, and very thin metal legs for a minimalist appearance. The monitor itself isn't even stored on the desk, it's sitting on the windowsill behind the desk.
This is a pretty unique bedroom desk idea, and it won't work in every single bedroom but if you have adequate room on your windowsill and want to save some space, it's not a bad way to go.
14. Small White Desk for Teenage Bedroom
This desk is white with wooden drawers and metal legs. It has a pretty good amount of storage within it, and a monitor riser could help with extra space on the top of the desk. However, in the teen bedroom desk idea shown above, there's two large shelving units next to one another that are built into the wall and offer ample storage for all sorts of things.
In this case, they're using it mostly as a display rather than functional storage, but you could easily display things on the higher shelves while using storage containers on the lower shelves and on the floor.
13. Reclaimed Wood Desk
This gorgeous reclaimed wood desk is made from reclaimed wood that was originally used as a floor. It has space for two monitors and small speakers on either side. Two large displays with studio speakers would be a tight fit here, but you could use speaker stands on either side of the desk, or you could have one display turned sideways.
Either way, this is a beautiful piece of wood working and a lot nicer than you'd ever really expect to find in any teenager's bedroom. If you're lucky enough to have a grandpa who was really into woodworking and he gifts it to you, then maybe – but otherwise – this is the type of furniture one usually acquires later on in life, it at all. Still, the styling of this photo is brilliant enough that it's worth taking a closer look at.
12. Wood Top Desk With Shelves
This small top medium size desk has a drawer, some shelves, and that ever-popular sawhorse style of legs, too. There isn't a lot of room for organizing things, especially since the shelves will make it really easy for things to look cluttered.
The post-it notes and to-do lists are just on the wall next to the desk, which has the potential to look a bit cluttered, but since this specific aesthetic doesn't have a lot of other color or much else going on, it actually ads a bit of a nice accent and looks just fine.
11. Narrow Desk for Dorm Rooms
This narrow dorm room desk looks like it's attached to the wall, but it could also just be pressed up against the wall. It has a slight curvature to it, which in theory will give you ever so slightly less space in the room, but it gives you extra desk space where you're actually sitting without taking up extra space at the sides, so it's a decent choice for function and it adds a lot of style to the room as you can see in the photograph above.
Doesn't this look like a perfectly cozy place to study on a rainy day? Plenty of space for a laptop, but a desktop with a monitor and a keyboard might get a little bit cramped. There's even a toaster oven and a fridge within reach so you don't have to go far for snacks, in true dorm room fashion.
10. Desk for Teenage Girl's Room
Here's a desk from a feminine looking room, from someone who seems to be into style, design, and art – and you can tell by the careful details and color choices that have gone into this desk. There's room for some books, a vase with flowers, a globe, a cork board that's very nicely curated, and lots of other nice details.
9. Vintage Antique Desk
This is an older style of desk that you might find in your grandpa's office or study, or at the back of a garage somewhere. It's made from solid wood, but that's not always a plus if you're living that dorm life since it'll be a lot harder to move. If you're in a more permanent space, you could even find a desk like this and sand it down, re-paint it or stain it, and have a gorgeous piece of furniture that'll last you as long as you want it to.
8. Floor Desk
Floor desks are more common in some areas of the world, but they haven't really made a splash in North America until more recently. It gives people a way to sit in a variety of different positions, and to move around a bit more, compared to just sitting at a desk.
If you're sitting for longer periods of time, you might miss the ergonomic feeling of a really nice chair, but on the other hand, a floor desk has its own advantages as far as ergonomics are concerned. Changing positions every 5-10 minutes should help with your blood flow, and it can remind you to keep good posture instead of relying entirely on a chair and sitting in the same place for hours at a time.
Another advantage for cramped areas is that you don't need a chair when you're working at a floor desk. Chairs take up a decent chunk of space in a small room, and they're just in the way whenever you aren't using them, but a floor desk solves that issue.
7. Wicker Desk
This wicker desk has a great look to it and makes for a fantastic workstation. It appears to have a glass top, and is fairly deep to accommodate things like a keyboard and a microphone, along with two speakers that are elevated.
There's a drawer on the front of this wicker desk, right in the center, which is a bit less convenient than having drawers on either side, since you have to get out of the way if you're sitting in front of the desk. None the less, this is a great creative workstation, albeit a bit cluttered, but some people do well with a little chaos!
6. Standing Desk
Here's a pretty standard electric standing desk. This specific desk is configured with two separate workstations and it has enough room for that because it's got a small MacBook and an iMac on it. At least one of the monitors also seems to be connected to a separate monitor, but it's also possible that both are. This other monitor could be used as a TV, or a second monitor for the laptop very comfortable.
This is a great example of making a lot out of a smaller space. Even the sideways plugs on the wall next to this standing desk point sideways so that they take up less room. Keeping the area clean is crucial for a standing desk because you don't want things falling all over as you raise and lower it.
5. Round Wooden Desk for a Teenager's Bedroom
Here's a round wooden table that can certainly double as a desk. You could replace the legs if you wanted something taller, or even cut them with a saw to make this desk shorter.
A round wooden desk isn't necessarily the most efficient option when it comes to optimizing space, but there's nothing inherently wrong with that. If you wanted to push it up against a wall, you could cut it in half and re-attach the other two legs, and then you can have the flat side against a wall.
When you're trying to style a room, it's all about figuring out what your goals and priorities are. Style and aesthetic? Function? How much space it takes?
4. Teenage Desk Built-in to the Wall
This built-in desk offers plenty of shelving and storage nearby, and it only sticks out a bit further. The specific example above might not be fully built-in, but it helps to demonstrate the potential of what you can do in certain rooms.
It also illustrates how you can achieve a similar effect to a built-in desk by carefully configuring and selecting desk and shelf options.
This can help save some space in a teen's bedroom compared to certain other styles of desks, simply because it offers so much room to store things on eithe side of the desk and even above it.
3. Wood Plank Desk with Drawers and Sawhorse
This wood plank desk has drawers on the left and a sawhorse to the right. The storage/monitor stand up top matches the style of the drawers that are holding up the left side of the desk.
There are lots of different customization ideas you can do with a desk to make it your own or to make it fit perfectly in a teenage bedroom. Storage space that's easy to access is a great way to keep a teen's room clean and organized.
The thing to remember is that all of these photos are very "posed", but when you're actually living in the space and using it, it usually won't look this clean and tidy but you can still take steps to make it easy and quick to clear everything off your desk and toss it in some drawers that sit under your monitor, for example.
2. Black Desks with Sawhorse Legs
If you have white bedding and furniture in your room, a black desk can add a really nice looking contrast to the room, as you can see in the photo above. This black desk has sawhorse legs that match the desk top.
It's relatively narrow, but you can fit a computer monitor and a keyboard + mouse fairly comfortable. A simplistic black chair complements it nicely, and in this particular room they chose to use some black and white art on the wall to really tie things together.
See also: The best bed for a teenager.
1. Table Desk for Teen Rooms with Two Chairs
This simple table can double as a desk if you have a small laptop or two. You could even have a PC with a monitor, a keyboard, and a mouse. But if you go with laptops, then you can easily fit two people around a table desk like this.
You can find tables like this where one or both sides will fold down, giving you more space, which can be really handy in a bedroom that doesn't have much room to spare. You'll normally find something like this in a kitchen, but whose to say it can't fit in a bedroom, too?
Finding Your Perfect Teen Bedroom Desk
Finding a teen bedroom desk requires a combination of creativity, measuring tape, elbow grease, and planning. Figure out how much room you have, and which functions you'd like the desk to offer (Multiple tiers for storage? Draws?