Humans are social creatures, and teens are no exception. This is time for trying new things, gaining freedoms, meeting new people, and when you can really start to form friendships based on interests rather than just proximity.
Social activities for teens are a great way to make friends with people that have similar interests, and to work on developing great social skills. Some of these are better for building social skills than other ideas on this list, and some of them are just fun things to do with a group of people, period.
It's easy to look at a list of social activities for teens, but what if you don't have a social group in the first place? Then all of these ideas feel a bit empty, right?
Don't worry, some of these activities are things that you can easily organize with an existing group of friends, BUT plenty of the ideas I've included on this list are also great ways to meet people, and are the types of activities where you can easily meet new people and integrate into their group.
More activities for teens:
---
The Best Social Activities for Teens in 2022
Here's our list of the best social activities for teenagers in 2022 and beyond. We'll keep this list updated as we come up with new ideas, too, so you can reference this page as a resource and it will be useful for many years to come.
Here are some things to do with your group of friends, but let's start off with some ideas of social activities for teens that will help you meet new friends. There are perfect for anyone who wants to build out their social group, meet new people, or make some friends that have similar interests.
1. Joining a Team
There are all sorts of different teams you can join, but sports teams are the most common and every city and even smaller towns will have some sort of sports leagues for people who are athletic, and people who are just there to be active and have a bit of fun.
If you're more on the athletic side, you can look into soccer teams and leagues, and if you prefer a more casual physical activity, there's always something like golf.
2. Taking Lessons
Taking painting lessons, dance lessons, or some other type of group class is a good way to meet new people, especially if you're a bit nervous and not a huge fan of small talk, because the activity is based around doing something.
It's not like you're just in an empty room and asked to spend 2 hours at a table talking. You'll be learning, listening to the instructor, and doing whatever the thing is that you're taking a lesson for.
You can find lessons for all sorts of things, from knitting, to drawing, to singing, to cooking, to painting, and so much more.
3. Join a Book Club
A book club can be a great social activity for people who are a bit more introverted since the majority of the time is spend on your own, reading the book, with just an occasional meeting in real life.
There are even book clubs that take place entirely online so it's a good way to incorporate some focused social interactions in your life without it being a huge commitment other than the time it takes to do the reading.
Beyond that, you can share as much or as little as you'd like when it's time to get together and discuss.
4. Learning an Instrument
Learning a musical instrument is a very personal and solo-based activity for teens, but once you've got the basics down, you can join a band or musical group and that's a great way to stay social and engaged with people who share a similar passion for music.
You have to put in the initial work of learning the instrument which can take anywhere from a few months to a couple of years until you're at a point where you'll be able to jam with other musicians at a similar skill level, but the harder you work, the sooner you'll be able to make that happen.
5. Finding a Club
We already discussed book clubs and various types of teams, but there are plenty of other types of clubs that you can join. It could be a chess club, a true crime fan club of people who enjoy listening to the best podcasts for teens, you could join a gaming clan, there's so much!
Check if your community has a leisure good book or a website that lists all of the different clubs and groups that there are to join. The nice thing about joining a club is that you can basically decide how much interaction or socialization you'd like to get out of the experience based on which type of club you join.
6. Board Game Nights
Is there a board game store in your city or town? These are popping up all around the country and most board game stores will host game nights, or just allow people to casually enjoy some games any time of day. You can show up at a board game cafe and oftentimes you'll find someone who's up for a game or two, so that's a good way to socialize a bit, enjoy a hobby, and hang out with people that have similar interests.
Dungeons and Dragons and other RPG's are also a great way to get to know a group of people while also being able to roleplay and interact as a character of your own creation, which can be fun for people who are a bit more on the shy side.
7. Museums and Tours
We've suggested this before, but going on a tour of a museum or some other type of tour can be a fun way to get out of the house, and you can more or less choose how much you want to interact. You can just follow along the tour and listen, or ask questions and get more involved.
Around the holidays, there might be Christmas Light tours near you, or haunted house decorations you can check out on Halloween with groups that go on tours, but it really depends on what season it is and where you're located.
8. Volunteer Work for Teens
Volunteering attracts some really cool and special people, so it's a great social activity because there's a high likelihood that you'll meet some fantastic folks while volunteering.
Sometimes, when you're just getting started as a volunteer, they'll have you doing the worst duties but it can get a lot better once they see that you're dedicated to the position.
Places that get a lot of students wanting to them for their required volunteer hours, for example an animal shelter, don't always want to go through all the time to train volunteers who will only show up once or twice, but putting in a handful of shifts can show that you're more dedicated and can lead to better volunteering opportunities.
9. Video Games
Video games can be a great place to socialize these days. Even less-popular games will have active communities around the web, and more popular games will have huge communities that you can become a part of. Starting up a gaming clan is a good way to form a small group of people to play with and get to know.
There are also in-person video game events like tournaments and LAN parties and other meet-ups. These are usually centered around PC gaming, but there's a big community for Smash Bros. and other console games, too.
Final Thoughts on Social Activities for Teens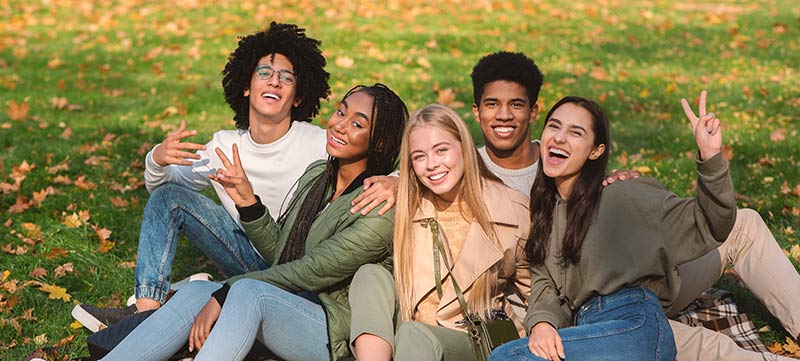 Social skills activities for teens are a great way to meet people, to overcome social anxieties, and to have a lot of fun doing things that you enjoy.
Hopefully, some of these ideas of social activities for teens will inspire you to put yourself out there and try some new things, or to find a cool group of people to share your existing interests with.