It's a strange summer, but as long as you're keeping some distance, the beach is a great way to get some sun and to forget about life for a little bit. If you don't have a good summer beach bag, you might feel a bit like this guy:
Having the best beach bag for teens lets you carry all your stuff with ease, so you won't lose anything and you won't have to leave anything important back in the car.
You could always run to the store and grab one of the standard, boring Target beach bags, but why not get something a little special for yourself? Plus, if you order it online, you can avoid the store altogether.
The 5 Best Beach Bags for Teens in 2020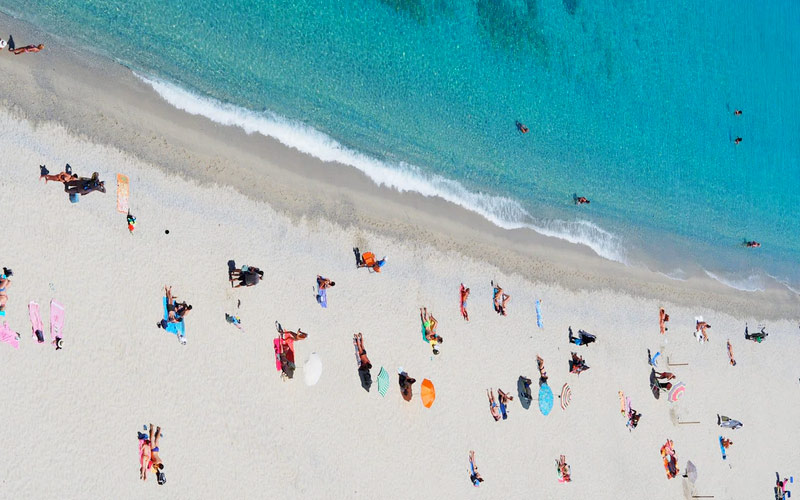 Here are some awesome beach bags to choose from, we're going to include some variety here because some people want a bag with a simple drawstring that's not too huge, but other people have toys and towels and speakers and all sorts of stuff that they bring to the beach so they'll need a much larger bag. We've got you covered, either way, so take a look at these recommendations starting at under $10!
Esvan Water-Resistance Shoulder Tote – Cute Beach Bags for Teens
This bag is big enough to carry everything, and it even has some mesh pockets on the sides for things like sunscreen or your keys for quicker access. It comes in, get this, nearly 40 different patterns so there's definitely going to be something for you. Check out their listing on Amazon to see the different designs – we love the wavy one pictured above!
This bag hits all of the most important notes for us. It's affordable, lightweight, water-resistant in case it gets splashed, it opens and closes easily, you can quickly access your most important stuff, and the straps make it easy and versatile to carry around. This beach bag is a WIN!
MOSISO Crossbody Sling Bag for the Beach
You want features? This bag has got features. It has one strap so you can sling it across your back, or wear it in the front. It has a little slot for headphones, so you can keep your phone or mp3 player safely inside. It's a bit smaller, so it's more for personal items, hygiene stuff, a towel, a change of clothes, electronics, etc – but it won't hold a bunch of toys or volleyballs or any larger stuff. If you just need a bag for some clothes and your swimsuit, a towel, and some odds and ends it's perfect. You can pair it with a larger communal bag for huge beach towels for all your friends, and some toys and drinks and stuff like that, and have this one for yourself.
The strap itself is very padded, so this one's great if you have to talk to the beach, and you can also use it for taking on hikes, or even for school on days where you don't have a ton of books. It's a good alternative to a purse when you're doing physical activities.
This beach backpack is super reasonably priced, looks great, is very stylish, and has multiple zippers and compartments to keep everything safe and organized. This is a great choice – highly recommended! You can pick up your own at Amazon.
Simple Adidas Beach Bag for Guys
This one obviously isn't just for guys, but for the gentlemen out there who don't want something that's floral or looks like a large purse, here's a pretty standard option. This is a drawstring bag, it's nothing fancy, but it also has a zippered enclosure and two mesh areas on the side so you can access all your most important stuff quickly.
The drawstrings can be used as straps to wear it on your back, or to carry it with your hand, and they'll also close up the top to stop your belongings from falling out. It's good for a swimsuit, a towel, some bottles, and whatever else you might need to carry around.
There's not a lot to say about it, it's not the fanciest bag, but it gets the job done, it's inexpensive enough, and its reasonably well-made. You can learn more about it on Amazon.
Extra Large Beach Tote by Shylero
This bag has a totally nautical feel to it, with the sailor pattern and the thick drawstring. If you were looking for a large beach bag for teens, this is the one! It's a little more costly than the others, but it's SO well-made, super heavy-duty, and extra durable. It'll last you many, many trips to the beach.
It has a side-picket that fits a water bottle perfectly, and it even comes with a special water-proof see-thru case that you can wear around your waist, sling over your shouter, or just keep inside of this beach bag. The waterproof case is meant to hold things like your phone, your keys, makeup, and anything else that you don't want to get wet. Nice!
This bag even has a built-in clip for your keys so you can't lose them, and a bottle opener that's attached to it. You'll save the day on a beach trip when everyone else forgets a bottle opener and you remember that you bought the bag that has one built-in.
The extra thick handles make it much easier to carry around with you. It's large enough to hold 4 big towels and more. This beach tote for teens is waterproof, and has an extra water-resistant liner on the inside, too.
Overall, it's probably our favorite option on this list, and you can grab one for yourself at Amazon.
Horsky Drawstring Backpack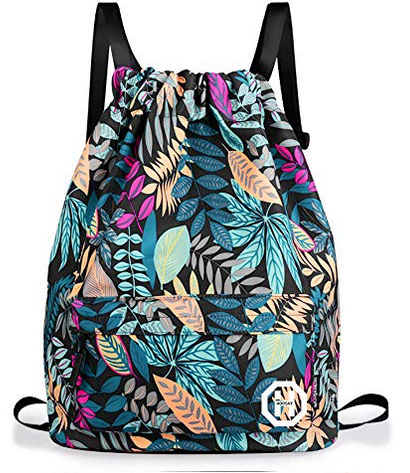 Here's another option, to wrap things up, for anyone who wants a slightly smaller, lighter bag. This drawstring backpack is a lot nicer than the Adidas one up there, especially for people who like a little color and style in their life. It's great for taking to the beach, to the lake, to yoga class, when you're out for a walk, and more. Like some of the other beach bags on this list, it can replace a purse very effectively. There's a compartment in the front for smaller things, and a larger storage section that has a drawstring closure.
This bag can easily hold an iPad or school books, and can even hold a laptop up to 14 inches in size, it can hold some towels, clothing, water bottles, and whatever else you want to bring with you to the beach for the day! It's a very solid choice, and another highly-recommended option if it suits your needs and style. You can have it shipped directly to your home from Amazon.
Other Styles of Beach Bags for Teens and Other Things to Consider
There are lots of styles to choose from. What matters most to you, style or function? Would you rather a bag that doesn't quite suit your needs but looks amazing, or a bag that doesn't quite look as good to you, but perfectly suits your needs? Ideally, one of the bags we've featured above will suit your personal style and your needs, and that's the one you should buy. Beyond that, it just comes down to thinking about what's most important to you when choosing a bag. Here are some things to keep in mind…
Value: All of the teen beach bags we've featured here offer great value for the price, you can't go wrong with any one of them, they're all really great.
Budget: How much are you looking to spend? A few bucks, or do you want to invest in something that'll last you a long time? If you only go to the beach once or twice a year, you may want to consider something more affordable. If you're at the beach or the lake every weekend or every other weekend, then you should definitely spend a bit more for something that'll last a long time.
Uses: How do you plan on using it? Will you be just keeping a few personal effects in it, or lugging around a few towels, toys, drinks, a chance of clothes, snacks? If you need to carry a lot, get a bigger bag. Also, think about other uses you may have for it like yoga and other classes, carrying notebooks, art supplies if you want to paint in nature, etc.
Choosing between these beach bags for teens doesn't need to be complicated. Keep it simple, pick the one that stands out to you, and get out there and enjoy the sun!